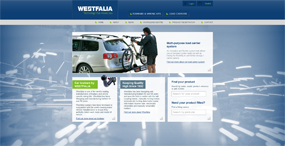 The newly designed and built Westfalia-automotive.co.uk website has just been launched. Westfalia UK Ltd is the UK subsidiary of the German-based company Westfalia-Automotive GmBH, specialising in towbars and associated accessories. The company is currently working to increase their brand presence in the UK.
The design was developed by Rapid Web Services to encompass the brand style, as set out by the German parent company. The client also wanted the site to be more visual and engaging for visitors, and clearly portray the company values and product offering. We therefore developed a highly visual design with large background images and clear content areas.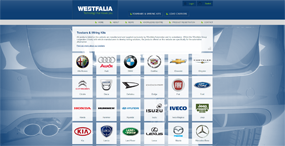 The content areas follow a structured but flexible grid layout, so that space can be used in the most effective way for the content of each section of the website. For instance, the homepage and directory style pages for towbars require many small content blocks, whereas the product listing pages use wider content blocks for the main content and utilise a smaller right-hand column for navigation between products and cross-selling of accessories.
A comprehensive administration system has been built into the website which enables the client to update all elements of the product catalogue, including adding and removing product and editing product details. A WordPress blog has also been integrated into the website to enable Westfalia to quickly and easily add news items and technical product updates.