At the end of 2014, Google reinvented the way website developers can combat against pesky spam bots on the web. Introducing Google ReCaptcha, a simple way to prove that you are a human reading the website.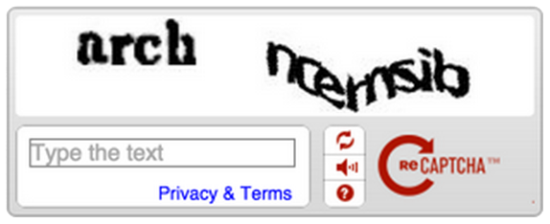 If you are a frequent Internet user, you may have seen previous methods of proving you are not a spam bot like the one pictured above. These have many problems – not only is the text hard to read (resulting in having to retry multiple times), it is also very difficult to tap into the small text box when using a smartphone or tablet as it was designed years before smartphones and tablets were popular.
Google's recent implementation is not only touch-friendly, but users can usually be identified by simply checking a check-box, as shown in the animation above. If they can not identify you as a legitimate website user then it will give you a simple test to perform that is easy for humans to do, but tricky for spam bots to complete successfully. Google Recaptcha tests are usually visual such as select from a grid of pictures that have cats on them. This is a much better experience for your readers instead of having to decrypt a poorly displayed phrase, like in previous methods of tackling spam bots.
Here at Rapid Web Services, we have seen some amazing results using Google Recaptcha on contact forms and registration forms to reduce spam. We definitely recommend it as one of the best methods of getting rid of spam bots.
Having problems with spam on your website? Not to worry, we can integrate Google's Recaptcha service for you within contact and registration forms. Contact us on our website or give us a call on: 01785 250 222