Rapid Web Services is proud to announce to recent launch of the brand new Sporting Kicks e-commerce site. Sporting Kicks sell alternative football t-shirts and souvenirs.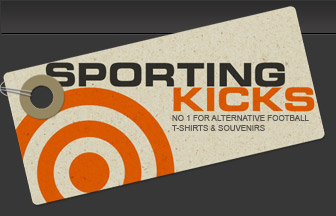 Although Sporting Kicks have been in business for many years, they came to Rapid Web Services for a fully new e-commerce website and redesign. We took their existing e-commerce solution and converted it to a completely new  and bespoke e-commerce system. To get to this solution, we offered consultation with Sporting Kicks regarding their existing web business and the best ways to move it forward.
Their database was migrated to a new format and integrated into our new solution. As part of this overhaul, many new features were added to the e-commerce experience. Below is a list of just some of the special features of the new Sporting Kicks website.
Integration into Amazon Marketplace
Automatic production of a dynamic Google Shopping Feed
Developing custom areas to include customisable featured products
Multiple payment options for the customer, including Debit/Credit card payments (via Moneybookers), Google Checkout and PayPal
Category specific filtering options to allow the user to easily browse the entire product catalogue
If you're interested in seeing what we can do for your e-commerce business, please do get in contact!