We recently posted about the launch of BanksyTshirts.org. If this interested you, you may also be interested in the recent launch of another Banksy t-shirts website!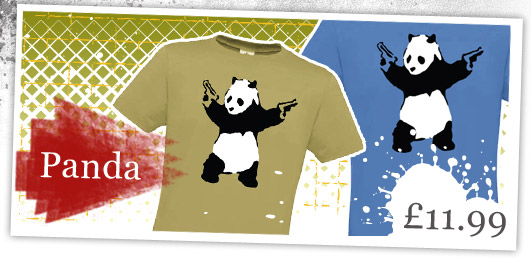 Rapid Web Services is happy to announce the recent launch a t-shirt website based solidly on our main and highly, flexible e-commerce system.
This website offers a full e-commerce experience for both the visitors browsing the advanced front-end shopping basket/cart system, and for the client who can utilise an in-depth, customisable administration system. This administration system allows the client to add and modify products that display on the public areas of the website and to manage the orders received through the site including orders taken via any number of payment gateway systems that can integrate with our e-commerce system.
The integrated payment systems included in this website are the SagePay payment gateway (previously known as 'Protx') and the ever popular PayPal, though our e-commerce system's checkout can easily be integrated with any common or even obscure method of electronic payment.
As well as the background code that powers this website, Rapid Web Services also created the custom, bespoke website design for this Banksy t-shirts website. The design emphasises the details commonly associated with graphic artists such as Banksy himself. If you wish to view this custom design in its full glory, take a look at our portfolio page or the Banksy t-shirts .net website!