A couple of weeks ago Google added a new report within Webmaster Tools – the Mobile Usability report. This new report is automatically available within your Google Webmaster Tools account (https://www.google.com/webmasters/tools/mobile-usability).
This new tool highlights usability issues for your site on mobile devices so that you can aim to improve the mobile experience for your website users. The errors that the report monitors and reports on include:
use of flash content
missing viewport meta tags
small fonts that may be difficult to read
fixed-width viewports
content that is not sized to the viewport
links or buttons that are too close to each other
The reports look something like this: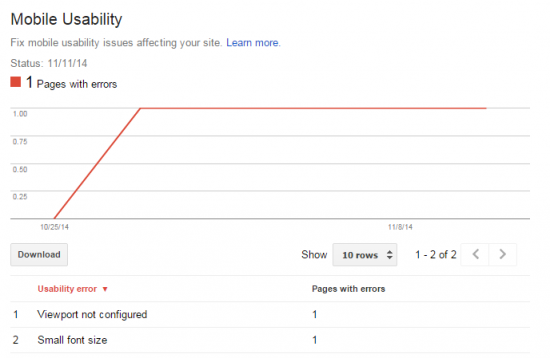 Is this a sign of another algorithm change?
Nothing has been said officially by Google, but reading between the lines this new report could be another indicator that mobile user experience performance might soon be a ranking signal in Google's algorithm.
Whether this will be the case or not we simply don't know, but either way this new report is a useful feature that will enable us to monitor  and improve mobile UX performance.