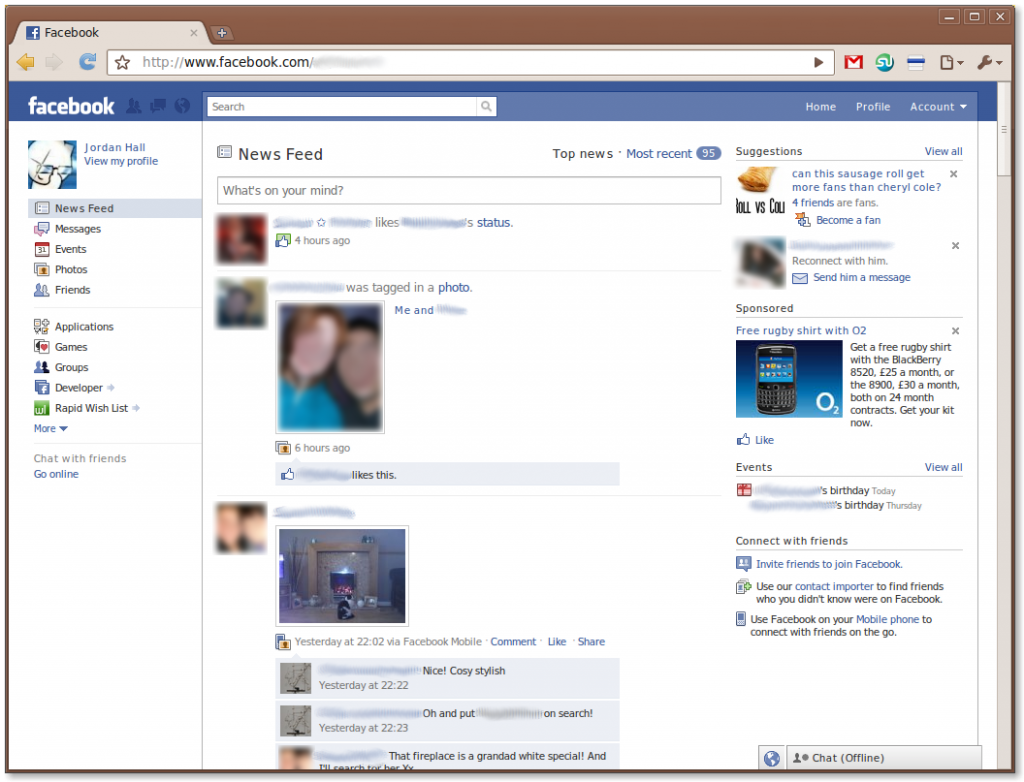 Facebook, one of the largest and most well known PHP powered social networking websites has made significant changes to its web design. Facebook have taken a more minimalistic web design approach in many respects, removing most of the bottom application and instant messaging bar, and moving to a left hand side bar. From a technical perspective, Facebook have increased their use of many web technologies such as JavaScript and AJAX in an effort to increase the speed of website loading and make improve the overall user experience. This certainly increases speed but can cause issues on intermittent or unreliable Internet connections, or on browsers with no or poor JavaScript support. However, Facebook has full support for Internet Explorer 7, 8, Firefox 3, Google Chrome, Safari and Opera.
The left sidebar of the new web design now features links to the news feed, friends, messages, friends and Facebook applications. These applications include both built-in Facebook applications such as Photos and custom made applications such as Rapid Wish List (in the Facebook screenshot above). The sidebar also includes direct links to the top online friends in your Facebook instant messaging, providing you are signed into Facebook's chat system, which is not the case in the screenshot shown above.
Hopefully you enjoy the new web design Facebook has adopted, but as always there are many Facebook groups which heavily dislike the new changes to the Facebook web design. This is always the case with Facebook design changes it seems. What do you think? Do you like the changes or find that they make the website more difficult to use?
If you're interested in a new web design for your website, whether minimalist like Facebook's new design, or much bigger and bolder, please feel free to contact us. We do web design, web development, the creation of dynamic PHP-powered web applications and search engine optimisation and much more. Take a look at some of our other work.